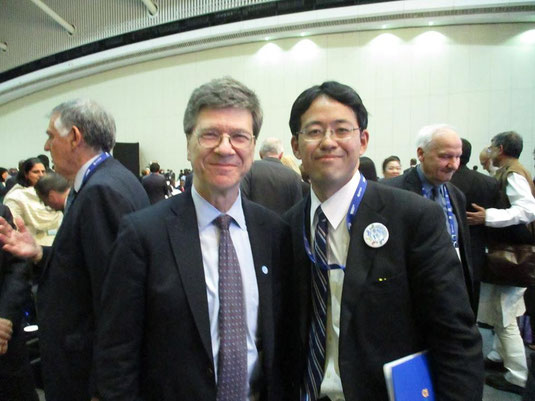 Opening ceremony of WEF2015 is beyond description with so many high profile people such as UN Secretary-General, President of the World Bank, Executive Directors of UNESCO, UNICEF, UN Women, Mr. Kailash, Laureate of the 2014 Nobel Peace Prize, and President of Korea.
For me, meeting Prof. Sachs directly since 2013 was so impressive. The air around him is always very soft and friendly to everybody. I feel secured with him. He is a definitely world icon and my great mentor. Surprisingly so much, the president of the world bank took the photo of Prof. Sachs and me. World leaders is so friendly.
In the plenary session, Prof. Sachs declared in public, " MDGs failed."
What a brave he is! He is in charge of Millennium Projects of UN. Nobody but him does not have the courage to say so. He continued, "because we cannot build a solid financing system to support them. Please raise your voice." He always tries to inspire people to take a practical action. I will follow him.